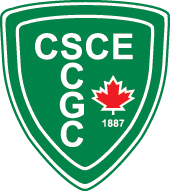 National History Committee
of the Canadian Society for Civil Engineering
Reversing Falls Bridge, St. John, New Brunswick
ACRES, HENRY G.:
Born, Paris, Ontario 1880. Following graduation from the University of Toronto he became one of the first employees of the newly established Ontario Hydro. He was promoted to Chief Hydraulic Engineer in 1911 and was put in charge of power development at Niagara Falls. In 1924 he established his own consulting engineering firm specializing in electrical power generation and municipal engineering.
BAIRD, NICOL HUGH BAIRD:
Born in Glasgow on August 26, 1796. Before coming to Canada, he worked with his father, Hugh Baird, and under the direction of John Smeaton on the Forth and Clyde Canal, and later directly with his father on the Union Canal, both canals in the central belt of Scotland. He later carried out renovation and restoration work in St. Petersburg, Russia. His first appointment in Canada was on the Rideau Canal under Lt. Col. John By, taking over the "Clerk of Works" position from the controversial John McTaggart. Baird was later appointed Chief Engineer on the Chambly Canal and was also involved in work on the Welland Canal. The records of his work in setting up and running the early work on the Trent-Severn Waterway are models, not only of professional design skills but also the application of the principles of "Modern" Project Management. Regrettably his excellent work on this waterway was cut short by political interference and he was never again to figure prominently in Canadian Civil Engineering History. He died in Prattleboro, Vermont in 1849.
BY, LT. COL. JOHN:
John By was the son of George and Mary By. His father was a Thames Waterman. In 1797 he was admitted as a Gentleman Cadet to the Royal Military Academy, Woolwich. He was commissioned 2nd. Lieutenant in the Royal Artillery on Aug. 1, 1799. After additional training he transferred to the Royal Engineers. His first posting was to Plymouth as an officer of 6 Company Royal Sappers and Miners employed in improving fortifications in Plymouth. At Plymouth he married Elizabeth Johnson Baines on 12 Nov. 1801. The following year he was sent to Canada arriving in Québec in 1802. In Québec, By was employed in constructing canals on the St. Lawrence River at Soulanges and the Cascades at Montréal. He was promoted Second Captain on 2 March 1805 and to full Captain on 24 June 1809. In February 1811 he was posted to Wellington's Army in Portugal fighting against Napoleon and was one of the RE Officers under the command of Lt. Col. Fletcher at both sieges of the Fort of Badajos. On 1 Jan. 1812 he was appointed officer in charge of the Ordnance Establishment at Waltham Abbey, north of London. There he was involved in the manufacture og gunpowder and of gun barrels. He was promoted to Major on 23 June 1814. With the victory over Napoleon at Waterloo in 1815, the need for armaments was reduced and on 21 Jan. 1818 the factory was placed on a reserve basis and the workers discharged. By was placed on the retired list in August 1821.Following retirement from the Army he purchased a property called Shernfold Park, near the village of Frant in East Sussex and became a farmer. On 2 Dec. 1824 he was promoted to Lt. Col. while on the retired list and in March 1826 he returned to active duty and was ordered to Canada to build the Rideau Canal. By and the Governor Earl Dalhousie chose Entrance Valley as the site of the first locks on 26 Sept. 1826 and there he constructed the first flight of eight locks at the junction with the Ottawa River. The canal was completed in 1831 but By's outstanding efforts were blighted by unjustified accusations of overspending and he retired again to England and his farm. He suffered a stroke in October 1834 and died on 1 Feb. 1836.
CAMBIE, HENRY J.:
Born in County Tipperary, Ireland, he worked on the Grand Trunk and Intercolonial Railways before moving to BC in 1874 to work on the Esquimalt and Nanaimo Railway. As work on this line was delayed he became a CPR surveyor working on the surveys from the Yellowhead Pass to Burrard Inlet. In the construction phase he was responsible for most of Andrew Onderdonk's contracts. On completion of construction he took over the Pacific Division of the CPR.
DAGENAIS, CAMILLE:
Mr. Dagenais, a graduate of Ecole Polytechnique, of Montreal, joined SNC in 1953. In the subsequent two decades he had been a prime mover in effecting a profound change in the company's corporate goals and structure. He was in charge of the engineering for vast hydroelectric projects which have made the name of SNC world famous. He directed the diversification of the firm into new domains of technology and broadened its markets to embrace the entire world. Highly respected in engineering circles for his work on the Manicouagan, Quinze River and Idukki hydroelectric developments, he served on the Board of several professional societies and was Vice President of Zone America on the International Commission of Large Dams.
From 1966 to 1975, as President and Director of SNC Enterprises, he developed and guided the growth of the SNC Group of companies. He was appointed Chairman of the Board and Chief Executive Officer in 1975. In addition Mr. Dagenais was a director of Canadian Liquid Air Ltd., The Royal Bank of Canada, Société d'Investissement Desjardins and a Governor of the Université du Québec.
Mr. Dagenais served professional associations in various capacities. Among these roles are: President of the Canadian Society for Civil Engineering; President of the Association of Consulting Engineers of Canada; Member of the National Research Council of Canada; President of the Canadian Nuclear Association.
Mr. Dagenais' influence on SNC resulted in a growth in employees from 650 to 2,200 and a revenue increase of 10 fold to $73 million. His philosophy was "Knowledge is the ultimate world currency".
DE LERY, GASPARD JOSEPH CHAUSSEGROS:
Chief Engineer of the King's Works in New France from 1716 until his death. Amongst his many achievements were substantial sections of the Fortifications of Québec City. These works provide interesting evidence of the Civil Engineering knowledge and expertise of the French Military and also led to some important advances in the understanding of soil mechanics. De Lery was a truly outstanding figure worthy of consideration as the First Canadian Engineer who made multiple contributions to engineering and architecture in the New World. The forts of Chambly, Niagara and Saint Frédéric are further examples of his prolific work as were some of the buildings of Canada's first venture into heavy industry, Les Forges du Saint Maurice. As an architect he was involved in Québec's Cathedral, the Chateau St. Louis, the Intendant's Palace and Montréal's Parish Church. De Lery also studies the possibility of constructing a canal between Montréal and Lachine, to bypass the rapids, thus anticipating the first "flowering" of true Civil Engineering works in Canada.
DU VERNET, HENRY:
Few details of Du Vernay's background and early life are available. Captain Henry Abraham du Vernet of the Royal Staff Corps arrived in Québec on July 29, 1819 to direct the construction of the Carillon Canal on the Ottawa River. Excavation started in 1821 but following problems both technical and financial was not completed until 1833. He was promoted to Major in 1827, then to Lt. Col. when the canal was completed and to full Colonel in 1841.
FLEMING, Sir SANDFORD:
Born on July 7, 1827 in Kirkaldy, Fife, Scotland, Fleming was Canada's foremost railway surveyor and engineer of the 19th. Century. He immigrated to Canada on April 24, 1845 at the age of 17 and worked initially as a surveyor. He was Chief Engineer of the Intercolonial Railway from New Brunswick to Québec and in 1871 was appointed Chief Engineer of the proposed Canadian Pacific Railway. His proposed route through the Yellowhead Pass was not used by the CPR but is now used by the Canadian National Railway. A vastly talented man, he was also instrumental; of the adoption of the now universally used "time zone" system. He was knighted in 1897 and for many years served as Chancellor of Queen's University in Kingston. He died in Halifax in 1915.
GORE, WILLIAM:
Educated in England where he practices for a number of years before coming to Canada in 1913. He formed a partnership with George Naismith and William Storrie which lasted until his death in 1934. Gore specialized in the design and construction of water supply installations and sewage treatment plants.
GZOWSKI, Sir CASIMIR STANISLAUS:
Born on March 5, 1831, the son of an officer in the Russian Imperial Guard an exile of the 1830's from Poland who reached Ontario in the early 1840's. He became Superintendant of Public Works for the Province of Canada, responsible for improving waterways and canals and for constructing roads, harbours and bridges. Later through his own company he was involved in the construction of the Grand Trunk Railway between Toronto and Sarnia. He was also involved in the design and construction of the international bridge between Fort Erie, Ontario and Buffalo, New York. He was a co-founder of the Canadian Society of Civil Engineers and served as President from 1889 from 1891. He served as Deputy Lieutenant Governor of Ontario and was knighted for services to both the Military and to engineering.
HALL, FRANCIS:
Hall arrived from Scotland in 1824 and settled with his family in Queenston. Soon after his arrival he was commissioned to design and build a monument to Sir Isaac Brock at Queenston Heights. That same year Hall proposed constructing a bridge over the Niagara Gorge between Queenston and Lewiston, however there was no support for this proposal. Shortly thereafter he was hired to survey and design the Schubenacadie Canal in Nova Scotia. Later he designed and built the Burlington Bay canal, several roads in the Niagara region and several major buildings in Toronto.
HILL, JAMES JEROME:
Born near Rockwood, Ontario, he began his business career in 1856 in St. Paul, Minnesota as an agent with the Mississippi River Steamboat Company. One of his earliest independent ventures was a river steamboat line on the Red River. He acquired the St. Paul and Pacific Railroad in 1878 and thereafter amalgamated several smaller lines into a rail system extending north to Canada and west to Seattle. All of his holdings were amalgamated in 1890 into the Great Northern Railway Company. He played a considerable role in the organization of the CPR and was instrumental in the appointment of Van Horne as the CPR General Manager.
HOBSON, JOSEPH:
Born in Guelph Township, Canada West in 1834 and educated in local schools and later in Toronto, Hobson served an apprenticeship as a Land Surveyor and after qualifying worked for Casimir Gzowski on the Grand Trunk Railway. He is principally remembered for the design and construction of the St. Clair Railway Tunnel at Sarnia. Several original tunnelling techniques were devised by Hobson for this project including a compressed air shield for the tunneling excavation and the installation of the cast iron liners. Electric lighting was installed which helped to provide a working environment brighter and safer than most contemporary works. Tunnelling was carried out from both ends commencing in 1888 and both tunnels met on August 30, 1890. The influence of Hobson's early training as a surveyor was clearly in evidence as alignment was only one quarter of an inch out vertically, and essentially correct horizontally. Train service began on September 19, 1891.
KEEFER, SAMUEL:
Born in Thorold, Ontario on January 22, 1811. Father was W.H. Merritt's partner on the Welland Canal. Older half brother of T.C. Keefer, Samuel was appointed Secretary of the Board of Works for Lower Canada in 1839. He became Chief Engineer in 1841 and in 1843 built Canada's first suspension bridge over the Chaudière Falls in Ottawa. In 1853 he resigned to become Resident Engineer on the Montréal and Kingston Section of the Grand Trunk Railway. He became Government Inspector of Railways in 1857 and shortly thereafter Commissioner of Public Works. In 1859 he supervised the construction of the new Parliament Buildings in Ottawa. In 1869 he designed and supervised the construction of a suspension bridge at Niagara Falls which was at that time the longest single span bridge in the world. In June 1880 he was appointed a member of the Royal Commission to inquire into the conduct and prosecution of the Canadian Pacific Railway. He died in Brockville, Ontario on Jan. 7 1890.
KEEFER, THOMAS COLTRIN:
Born in Thorold in 1821 into an Empire Loyalist Family. His father was Chairman of the Welland Shipping Canal Company. After attending Upper Canada College he began his engineering training by working on the Erie Canal and continued his learning experience later on the Welland Canal. Although he was to become well known through his writings, particularly "Philosophy of Railroads" and "Philosophy of Canals", his engineering focus was on water supply. He became Chief Engineer of the Montréal Water Board and built Montréal's first water works. He also built Ottawa's first water works. One of his best known achievements was the construction of the Hamilton Water Works, an achievement commemorated by the Pumping Station there as the Hamilton Museum of Steam and Technology. He produced proposals for the construction of the Victoria Bridge in Montréal and several of hios ideas were incorporated in the structure. Keefer was co-founder and first President of the Canadian Society of Civil Engineers. He was also President of the American Society of Civil Engineers, of the Canadian Institute and of the Royal Society of Canada.
KENNEDY, Sir JOHN:
(26 September 1838 – 25 October 1921).He was born at Spencerville, Ontario, and was educated at McGill University. In 1863 he was appointed assistant city engineer of Montreal. In 1871 he became division engineer, and later chief engineer of the Great Western System of Canada. In 1875-1907 he was chief engineer of the Montreal harbour commission. He deepened the ship canal between Montreal and Quebec from 20 to 27½ feet (6.1 to 8.4 m) and designed and carried out all the improvements in Montreal harbor during 32 years. He was a member of several royal commissions for engineering purposes connected with the Lachine Canal, the causes of floods at Montreal, and the completion of the Trent Valley Canal system. He was knighted i n 1916.
KETCHUM, HENRY G.C.:
Ketchum was the first graduate of the University of New Brunswick's engineering program, the first program of its kind in Canada. He is best known for his work in attempting to build the Chignecto Marine Railway. This project was intended to minimize the danger and expense of shipping goods from the St. Lawrence River round the coast of Nova Scotia to ports in the Bay of Fundy and the eastern United States. The plan was to build 17 miles of double tracked railway across the Isthmus of Chignecto connecting the Northumberland Strait with the Bay of Fundy. From docks at either end, ships would be hydraulically raised on specially designed cradles and placed on flat cars for transportation across the Isthmus. Regrettably, financial and political factors prevented the project from being completed. Ketchum died in 1896.
MACDOUGALL, ALAN:
Alan Macdougall b. 22 May 1842 in India, third son of Lieutenant-Colonel John Macdougall of Edinburgh; m. 1872 Emily Augusta McCaul, daughter of Dr John McCaul, president of University College in Toronto. Macdougall was a member of the Institution of Civil Engineers, the Royal Society of Edinburgh, and the Royal Scottish Society of Arts. He was also active in the St Andrew's Society of Toronto and the Canadian Institute, serving as secretary of the latter for ten years. The leading organizer and promoter of Canada's first national association of professional engineers, the Canadian Society of Civil Engineers, founded in 1887, Macdougall served for several years on its council. In 1894 he was elected vice-president
MACKENZIE, C.J.:
A holder of the Military Cross from the First World War, Dean of Engineering at the University of Saskatoon, Charles Jack (CJ) Mackenzie took a leave of absence from the University to accept a contract to design and build the Broadway Bridge in Saskatoon, a "make work" project during the depression. His engineering staff consisted entirely of recent engineering graduates and at peak over 1,500 men worked on the project. Often known as the "Dean's Bridge", the Broadway Bridge was officially opened on 11 November 1932, one of the finest structures of its kind in Canada. A few years later the same team designed and built the Ceepee Bridge across the North Saskatchewan River between Saskatoon and Battlefords. C.J. Mackenzie was appointed as President of the National Research Council in 1944. He was the first North American to receive the Kelvin Medal for engineering from Britain in 1953 and also received the Order of Canada.
MACTAGGART, JOHN:
One of the most controversial figures in Canadian Civil Engineering History, MacTaggart was born in Edinburgh in 1791. For a short time he attended Edinburgh University to study mathematics and physics, giving up without earning a degree. He worked as a Civil Engineer with John Rennie and came to Canada in 1826 to work as Lt. Col. John By's Clerk of Works on the Rideau Canal, apparently on the recommendation of Rennie. He had a short and controversial career on the Rideau Works, and it is not clear if he left of his own accord in 1828 or whether By dismissed him. On returning to Scotland he wrote "Three Years in Canada", which was published in 1829. His health was compromised due to the harsh conditions under which he worked on the Rideau Canal and possibly also by excessive drinking and he died in 1830 aged 39 years.
MCCULLOCH, ANDREW:
Of Scottish descent, McCulloch was born in Lanark County, Ontario on June 16, 1864. He graduated from Dominion Business College, Kingston in 1888 and immediately moved to the west coast. He initially worked on J.J. Hill's Great Northern Railway and in 1884 was employed by the CPR on bridge repair works, later becoming resident engineer on the Superior and Ishpeming Railway. This was followed in turn by work on the Nakusp and Slocan branch line in BC, the CPR's Crow's Nest Line, the Columbia and Western and Grand Trunk Pacific. He returned to work for the CPR as Divisional Engineer of Construction Eastern, based in Montréal. In early 1910 he was appointed Chief Engineer on the Kettle Valley Railway in BC, a project which was to be the most challenging of his career. Following completion of the line in 1916 he was appointed Superintendant of Operations. He retired in 1933 but continued as a consultant for many years up to his death on December 13, 1945.
MOBERLY, WALTER:
Born in Steeple Aston England, he came to Canada as a child. He became Superintendent of Public Works in BC in 1859, one of his most notable projects being the construction of the Cariboo Road in 1862. He was Assistant Surveyor General in BC from 1864 to 1866 before moving to the US. In 1871 he became Engineer in charge of exploratory surveys for the CPR route through the Rockies and identified Eagle Pass. In 1877, Moberly planned and built the Grand Rapids Tramway for the Hudson's Bay Company to bypass a portage bottleneck where the Saskatchewan River flows into Lake Winnipeg
PRATLEY, P.L.:
Philip Louis Pratley came to Canada in 1906 upon completion of his studies in Britain. His first position was with the Dominion Bridge Company on the Québec Bridge. Later he became a partner in the firm of Montserrat and Pratley, a firm which designed such well known bridges as the Jacques Cartier Bridge in Montréal and the Lions Gate Bridge in Vancouver. After Montserrat's death, Pratley continued the practice and was responsible for the design of the Angus L. Macdonald Bridge in Halifax and several other notable structures. In addition to his successful practice, Pratley was a prolific author and active in the Engineering Institute of Canada. The P.L. Pratley medal was established in 1987 by the Canadian Society for Civil Engineering and is presented each year for the best paper on bridge engineering.
ROGERS, RICHARD B.:
Born in 1857 in Ashburnham, Rogers supervised the development of the Trent-Severn Waterway to approximately its present day status. He was responsible for the design and construction of those internationally celebrated works, the Lift Locks at Peterborough and Kirkfield
SCHREIBER, COLLINGWOOD:
Born in Colchester, Essex, England on 14 December 1831, he came to Canada in 1852 and worked on the Hamilton and Toronto Railway till its completion in 1856. He then engaged in a private engineering practice until 1860, one of his closest associates being Sandford Fleming. In 1860 he was employed by the Northern Railway and in 1863 he became Divisional Engineer on the Pictu Railway in Nova Scotia. In 1868 he began work on the Intercolonial Railway. Later became Chief Engineer of the Department of Railways and Canals, in which capacity he was involved in such notable works as the Trent-Severn Waterway and the Québec Bridge.
SECRETAN, J.H.E.:
Following experience on a number of railway crews in the early 1870's he began work on the CPR. His first survey work on this project was on the "North of Superior" Section. In 1874 he moved to BC and assisted on the survey of the Upper Fraser River between Fort George and Tete Jaune Cache. He described his experiences in his colourful and descriptive book "Canada's Great Highway: from the First Stake to the Last Spike".
SERRELL, EDWARD W.:
Born in Britain, educated in New York, Serrell designed the Lewiston/Queenston Bridge at Niagara and the Reversing Falls Bridge at St. John, New Brunswick.
SHANLY, WALTER:
Born in Queen's County, Ireland in 1819. At the age of 17, he immigrated with his family to London, Ontario. With his brother Frances, the brothers had their first practical engineering experience working on improvements to the Beauharnois Canal. In 1845 Walter moved to the Niagara Falls area where he was engaged in engineering work on the Welland Canal. In 1848 he joined his brother Francis to work on the Lake Champlain to Ogdensburg Railway, becoming Resident Engineer for the Eastern Division. Returning to Canada in 1850 he was appointed Chief Engineer of the Bytown and Prescott Railway. Shortly after this he was appointed Chief Engineer of what became the Western Section of the Grand Trunk Railway and later General Manager of the system. Perhaps his most famous engineering achievement was, together with his brother Francis, to take over and successfully complete the Hoosac Tunnel in Pennsylvania. A co-founder of the Canadian Society of Civil Engineers, he served as Member of Parliament from 1863 to 1872 and again from 1877 to 1891. He died on December 17, 1899 and was buried in London, Ontario.
TAYLOR, THOMAS:
A graduate of the School of Practical Science at the University of Toronto, Taylor joined the City of Toronto works Department in 1912 as an assistant railway and bridge engineer. He was closely involved with the design of the Prince Edward Viaduct in Toronto.
VAN HORNE, Sir WILLIAM CORNELIUS:
Born in Illinois, worked on US Railways and was Superintendant of Construction on the St. Paul, Minneapolis and Manitoba Railway until his appointment as General Manager of the Canadian Pacific Railway in 1882 on the recommendation of James Jerome Hill. He was responsible for the bulk of construction work and the successful completion in 1885 of the Transcontinental Railway. One of the most outstanding "Project Managers" of his time, he became President of the CPR in 1888 and Chairman of the Board in 1899. He became a naturalized citizen of Canada and was knighted in 1894.